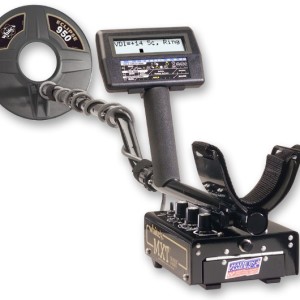 White's MXT
The legendary performance of the MXT is like having three metal detectors in one! This detector is as comfortable hunting for coins in the park as searching old battlefields for relics. Its easy operation and performance were designed by prospectors for the tough task of finding gold.
Three separate programs give you versatility with different target responses, display info, and audio frequencies for Relics, Prospecting, and Coins/Jewelry.
Relic: Specifically identifies buttons, buckles, and bullets with three options for tone ID.
Prospecting: Iron Grunt for targets with high probability of being iron.
Coin/Jewelry: Coin/jewelry/trash target ID with distinct tone IDs.
All modes have automatic ground balance, overload alert, VDI range of -95 to +95, and 3-easy-to-adjust controls:
Gain maximizes sensitivity and depth. Threshold allows you to hunt with a slight hum or hear only the sound of detected targets. Dualcontrol functions differently in each program.
Highlights
3 Complete Separate Programs
3 Easy-Adjust Controls
Automatic Ground Balance
Coin/Jewelry Mode
Operating Frequency
Prospecting Mode
Relic Mode